Christina Crook is an award-winning author and in-demand speaker whose audiences have included the Young Presidents' Organization, World Vision and the All Tech is Human Summit.
Her book, The Joy of Missing Out: Finding Balance in a Wired World, helped pioneer the field of digital well-being and established her as a leading voice on technology and human flourishing. Her commentary on technology and daily life have appeared in international media, including The New York Times, Psychology Today and Glamor Brasil. She is widely considered the leader of the global #JOMO movement. She hosts the JOMOcast podcast.
Christina speaks to audiences around the globe about beating the fear of missing out by embracing JOMO: the joy of missing out on the right things.

IT'S NOT JUST A TALK. IT'S AN EXPERIENCE.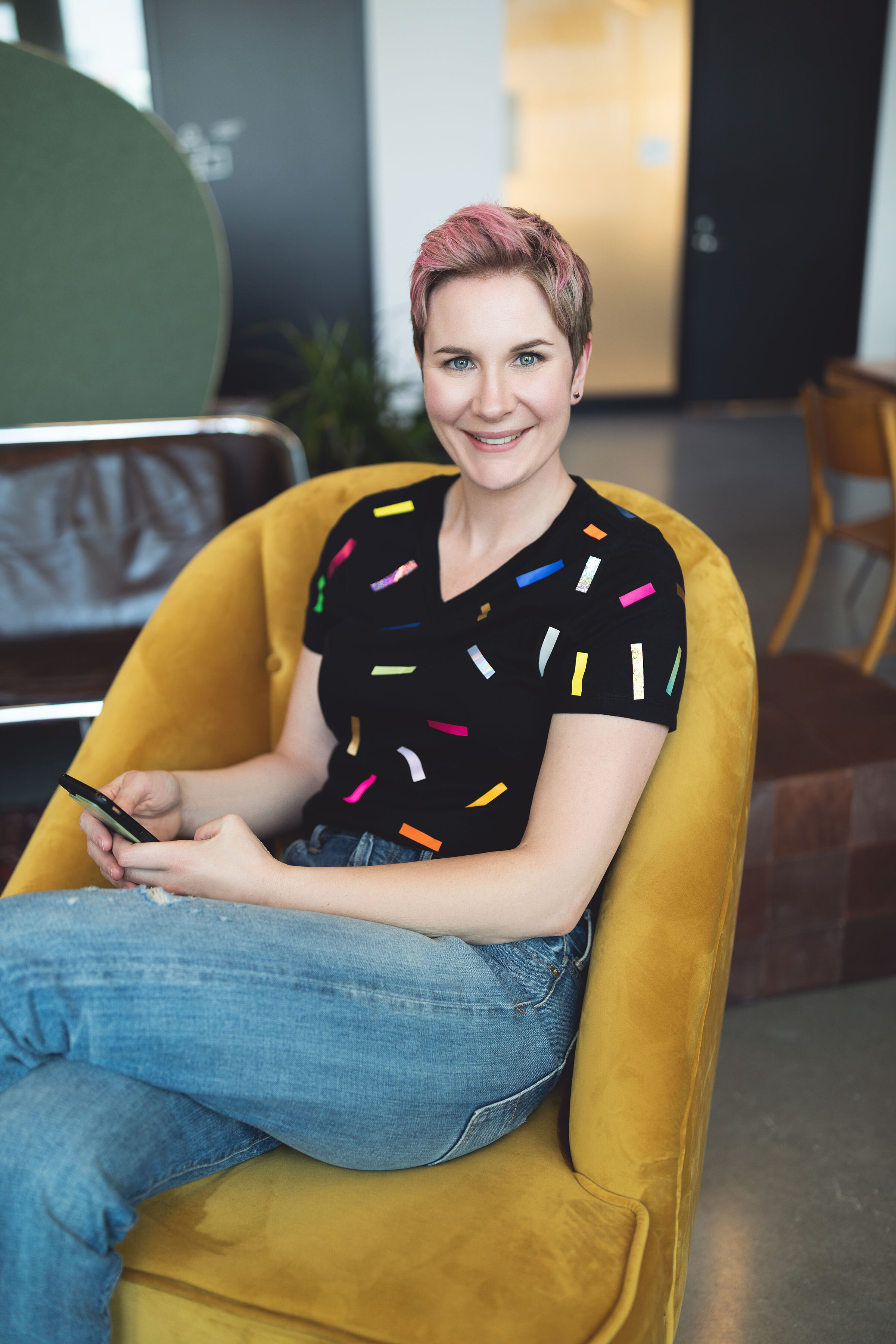 Here's what people are saying about Christina…

"Spend ten minutes with Christina and you'll feel rejuvenated and hopeful about the future. She makes disconnecting look mainstream, doable, and the breath of fresh air we are gasping for." - Aimee Ippersiel, Executive Director, Robert Bateman Centre
______________
"Her emphasis on sanctuary and human connection helped move leaders toward positive actions and habits in balancing technology, relationships, and personal well-being." - Dr. Lynn E. Swaner, Chief Strategy and Innovation Office, ACSI
______________
"Christina has an ability to connect with people immediately and finds commonalities that make her extremely relatable... The session was flawlessly executed." - Madison Hall Sikorski, Brand Strategist & Drive Founder, Cossette

Every experience is custom made, with love, for your people.
Combining raw and relatable stories, actionable advice, compelling research, and interactive exercises, Christina designs custom experiences that empower audiences to be brave and take action.
( About Christina Crook )

Through Christina's speaking and writing, she reveals how key shifts in our thinking can enable us to draw closer to one another, taking up the good burdens of local work and responsibilities. She writes about the value of focus, making space to create, and the meaning we find in more limited connections. She challenges the Western values of power, control, and success, revealing how wonder, trust, and discipline are central to the experience of being human and the keys to our joy.

Her commentary on technology and our daily lives have appeared across the world, including the New York Times, Psychology Today, Women's Health, Times of India, NPR, CBC Radio, AARP, CTV, Glamour Brasil, and more.
Crook has worked for some of Canada's most recognized media organizations, including the Canadian Broadcasting Corporation and Rogers Digital Media. She is a graduate of the Simon Fraser University School of Communication and her TEDx talk, "Letting Go of Technology: Pursuing a People-focused Future," was presented as part of the 2013 Global TEDWomen conference. Christina speaks regularly at organizations, conferences and universities across North America.
Recent engagements include Young Presidents' Association, Cossette, Dovetail Summit, Canadian Internet Marketing Conference, World Vision, Fireside Conference - Canada's largest invite-only tech summit. Christina is a member of the Media Ecology Association and sits on the board of Second Nature Journal, the publication of the Institute for the Study of Technology and Christianity.
Most importantly, Christina is wife to Michael and mom to Madeleine, Thomas, and Caleb where she is learning to embrace her own weakness, experiencing the mess and fruit of relationship, and discovering the value of what Kathleen Norris calls the "quotidian mysteries" (also known as doing the dishes.)

They make their home in Toronto's Junction neighbourhood where they once shared their home with another family of five. (That's a whole story on its own - as told by the CBC.) In her spare time, you can find Christina out rowing, licking stamps at the post office, or flying brightly coloured kites with her family on the lakeshore.